Child birth classes are a must for new parents; they can also be an excellent refresher for second or third time parents. Your local hospital or birth center likely offers a wide variety of birth classes for free or for a moderate fee. You can ask your OB for recommendations, and when you schedule a hospital tour, it's likely that your tour guide will discuss any classes the hospital offers. Most hospitals will offer a range of classes including the basics of labor and delivery to essential newborn care. Here are 10 "Dos and Don'ts" of childbirth classes.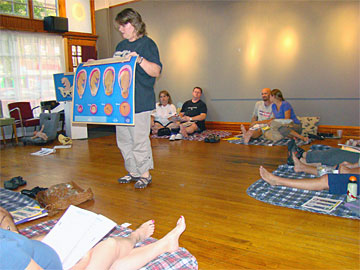 Do Plan Ahead
Don't procrastinate in signing up for classes; most childbirth classes tend to run small, so sign up early to ensure that you get the class you want.
Do Research Your Options
Although your local hospital is likely to offer classes, so too will birthing centers and licensed professionals working as doulas or certified consultants for Hypnobirthing or similar labor aids. The advantage of attending birth classes for a particular method, such as Hypnobirthing, is that the information will be tailored to a specific approach instead of just general information.
Do Take More than One Class
If offered, take all the classes you can! Whether it's the progression of labor, newborn care, maternal postpartum care, or breastfeeding 101, take the class! You can never have too much information. And the more classes you take, the more opportunities you have to meet other local expecting moms.
Do Take Notes
This is the digital age; you don't have to bring a notebook and pencil to class, but you should bring something to take notes. Whether you record the class or simply capture key points on your smartphone or iPad, take notes on the important stuff and jot down any questions you have so you can have them answered by the instructor or your healthcare professional.
Do Ask Questions
There are no stupid questions! Becoming a parent is an awesome (and terrifying) responsibility. If you have a question ask it—odds are the other women in the group want to know it to. So take a breath and ask what to do when the belly button falls off or how likely it is you'll poop while giving birth. The instructor should be able to answer all your questions.
Do Attend With Your Birth Partner
Whether your partner is your spouse or someone else, it's important that he or she attend the classes with you. They'll be the ones helping you through labor and delivery and they should know what to expect.
Do Read the Material
It's likely you're done with school, but that doesn't mean you shouldn't review any materials provided by the instructor. Many classes offer workbooks or worksheets to help expecting mothers create birth plans as well as figure out how they feel about such issues as the placenta, breastfeeding, and pacifiers. Set aside the time to read the literature and do the work.
Don't Wait Until the Last Minute
You won't be the only expecting mama signing up for birth classes. Sign up early and enjoy the class you want to take. And if you're little one decides to make an early entrance you'll be prepared!
Don't Expect the Class to Cover Everything
Whether you sign up for a Saturday all-day marathon, or a 1-hour weekly class, know that no class can cover everything. Childbirth and newborn care are expansive topics; your instructor simply won't have the time to cover everything. It's a good idea to invest in a quality parenting book; read it while you still have the time!
Don't Blow Off the Class
Undoubtedly, you'll be tired for most of your third trimester. Your body will ache and you'll be ready to head the hospital by the eighth month. Don't blow off the birth classes because you're tired. Learning the proper swaddling technique as well as what the rainbow color of your newborn's poop can tell you are both important things to know to survive the first two months as new parents.
Not all instructors will be the same; it's a fact that some will be better than others. If you have friends with children, ask around to see what classes they recommend. Your OB or midwife as well as local mothering advocacy groups such as La Leche League could be excellent resources as well.