Here's a general rule about babies: they will nap anywhere. When your little one begins to nod off after a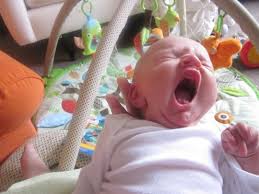 feeding or you recognize the sleepy cue, then it's time to put him or her down for a nap. And though it's tempting to watch him or her sleep in your arms, you may want to nap as well—or grab a snack or clean the kitchen or take a shower or… . You get the idea. Stairs can be difficult after giving birth naturally or by C-section, so it's a good idea to set up your living space to accommodate your newest addition. Here are a few tips on bringing home baby and prepping your living areas for your baby's arrival.
1. Set Up a Pack-N-Play
What a great invention! These little gems can act as a mini crib anywhere you set them up. Whether you need to keep the four-legged family members separate from the baby or you need to simply have a place for him or her to nap, a Pack-N-Play is an essential baby gear item to have in your living space. Avoid placing them by a window as the light and/or heat could make your baby uncomfortable when trying to nap.
2. Your Wrap
Babies love being held, but sometimes mamas need their hands. Consider keeping a baby carrier downstairs so you can slip it on and walk around. It's important to know that all baby carriers are different; you may go through several until you find one that works for you. But one will work; they are a must for new parents. Being nestled close to your heartbeat, smelling your skin will calm you baby; baby wraps are worth the investment!
3. Set Up a Swing or Bouncy Chair
Whether you have a swing, a bouncy chair, or both, set them up somewhere in the living or family room. Although many babies sleep well on their backs, some babies won't, and may even experience acid reflux at a very early age. Set aside some time to read the instructions and put these items together before your little one's arrival. As with the Pack-N-Play, avoid super sunny or warm/cool spots by vents.
4. Set Up a Diaper Station
Before long you'll be asking yourself how it is humanly possible to dirty so many diapers. Diaper changes will be so frequent in fact that you won't want to be running up and down the stairs. Set up a changing station downstairs. Many Pack-N-Plays offer an optional changing station, which is a great idea. Keep the station stocked with diapers, wipes, and any creams you may need.
5. Set Up a Baby Extras Spot
Again, you won't want to constantly be running up and down the stairs for a clean spit-up cloth or outfit number three of the day. Be kind to yourself and plan ahead when bringing home baby. You can keep these baby extras with the diaper station or set up a cute basket wherever you have space. Keep several outfits, spit-up cloths, and some chocolate in there for you.
Once your little one arrives you'll feel as though your home exploded with baby gear, and that's true. For the next 18 years or so you'll be sharing your space with your baby as he or she grows. Although you can't do anything about this (why would you!) you can set up your home ahead of time and set some simple routines in place to make everything go easier. Think ahead to what you may need and make sure that it's only several steps away. Doing so just may earn you that 10-minute cat nap you really need.